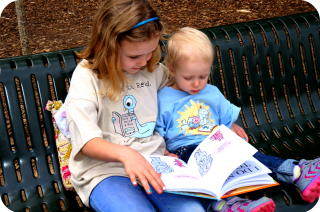 Today was a beautiful day for a myriad of reasons. The sun was shining. It was 70 degrees outside. And, after spending four days in the hospital, my oldest daughter was feeling much better and most importantly was home.
We took advantage of the beautiful day outside by heading first to the park to play on the playground equipment and to check out the ducks at the pond. Notice how my youngest daughter won't look at the camera because she cannot keep her eyes off of the ducks. I know she is trying to figure out how to jump into the water with the ducks.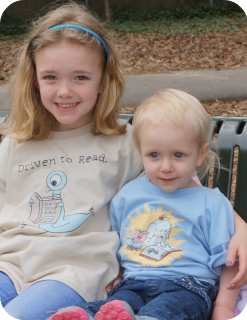 We then headed over to the library to make an exchange of books. Right now, Little J likes to find chapter books that my older daughter reads, like Junie B. Jones, and pretend to read them. I just love it because she is emulating her sister who reads all the time. I hope this type of modeling will grow a reader.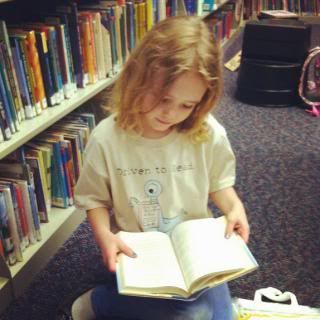 After we were done at the library, we returned home to enjoy more play and some reading. My kids are loving the adorable Mo Willems themed t-shirts that we received from Wonder Shirts. (Check out my
previous post
where I share the t-shirt I received, free of charge, from Wonder Shirts.) Miss M is wearing the tan Pigeon t-shirt that says "Driven To Read," and Miss J has on an adorable Elephant and Piggie shirt.
Little J smiles every time she sees the t-shirt and makes the connection that the characters on her shirt are the same as the characters in her books. Even though Little J's shirt swims on her because she is so small, she insists on wearing it. I actually have to tie it in the back to keep it from hanging down like a dress. I love how the shirts reinforce characters from books with positive images of reading. I would take these shirts, hands-down, any day over the skin tight t-shirts they sell in the store to children with phrases like "Sparkle" on them. If you like these shirts, check out
http://www.wonder-shirts.com/
.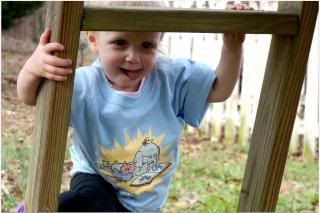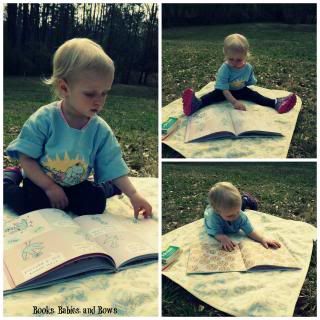 Disclosure: As I stated earlier in my blog, I received the t-shirts shown here free of charge from Wonder-Shirts. All the opinions stated on this blog are my own.