I am so excited to be partnering up with Heather Bowling with Usborne Books to offer a copy of Usborne Activities 50 Easter Things to Make and Do just in time for Easter.
The Book:
Usborne Activities: 50 Easter Things to Make and Do
Age Recommendation: Ages 6 and up.
Description: 50 spiral-bound cards each showing an Easter-inspired project to create. - Projects include decorative Easter garlands, fingerprint bunnies, a hatching chick card, decorated eggs and lots more. - Each card shows a colorful picture of the finished project, with clear step-by-step illustrations and instructions on the reverse. - The spiral binding makes the cards easy to use with no fear of losing favorite cards!
My Review:
My review copy of the book arrived at our house on Monday before I got home from work, which meant Miss M, who was home from school with my husband, had already put at least 10 bookmarks throughout the book on projects she wanted us to do. My daughter loves doing arts and crafts. Her room is always filled with scraps of paper that have been cut up, painted, and then shaped into all sorts of creative things. So, you can imagine that reviewing a book where I encourage her artistic tendencies was a big win in our house.
After much convincing, I was able to narrow her lengthy list down to two projects, and we did them tonight. What impressed me with the selection of activities in this book was that, in general, they could be completed with basic art supplies that you would most likely have around the house. I also loved that the book was spiral bound and on heavy weight paper, that makes it study enough to withstand the wear and tear of a super creative kid. Supplies needed for most of the projects include heavy weight paper, tissue paper, paint, crayons, and markers. The most challenging activities in the book include a couple of projects that require using an egg shell after you carefully crack it and pour out the egg. Other than the egg cracking activities, all the other projects are easy enough that I would be confident my oldest daughter, who is seven, could do them on her own. Also, all the projects can be completed in eight steps or less.
I really like the idea of getting projects to do from this book, as opposed to just searching on Pinterest for activities, mainly because the book not only has excellent photos and "how-to" descriptions but it also allowed my daughter to choose the activity. I am a firm believer in letting kids do things on their own, as long as it is age appropriate, with very little parental interference. My daughter is at her most creative when I am hands off with projects.
The first activity we choose to do was to make the Chirpy Chicks. In this activity, the book includes instruction on how to draw a basic chick and then additional examples of all sorts of different ways to draw the chicks. My daughter wanted to make a full flip book, but I convinced her to scale down and only make four pictures, provided I would make them into a gif. These are the four chicks we made.
Make sure to read through to the end to see the gif we made.
The second activity my daughter did completely without my help while I put little Miss J to bed. She choose the Painted Daffodils activity. This activity takes a step by step approach to painting daffodils, layering each step after the other.
After making the flowers and adding the stems, she felt the yellow I set out for her was too bright. So, she went back and darkened it up with the orange. Looking through the pictures, I think it was a nice choice.
And here is the finished product. She was very excited to see the flowers form before her eyes. I was impressed that she was able to follow the instructions, which are provided in both print and with pictures, without any parental help.
And here is the gif we made. I did the uploading, cropping, and editing for the gif. My daughter assured me she could help; but it was getting late, and she needed to get to bed.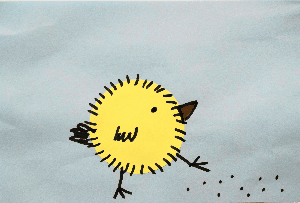 One Little Chickie
What do you think of our projects?
Overall, this book was a big win for my artistic oldest daughter. She has already informed me of some of the other projects she plans on doing the next couple of weeks.
Want to add the book to your kid's Easter Basket? You can purchase it here:
http://r2087.myubam.com/p/716/50-easter-things-to-make-and-do .
In the mean time, enter to win a copy of your own right now! The winner will be announced April 7th on my Facebook page, Twitter, and on this blog.
a Rafflecopter giveaway
Disclosure: I was provided the review copy of the book from Heather, free of charge, in exchange for writing a honest review.